Információ a nyelv nem áll rendelkezésre.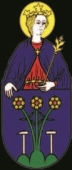 Spišská Nová Ves – a gate into the Slovenský raj (Slovak Paradise)
The first written mention comes from the deed of Ostrihom's archbishop Philip from the 29th November, 1268, where the town is mentioned as VILLA NOVA. The longest lenticular-type square in Slovakia, the highest (87 m) neo-gothic tower of parish church, the youngest and nicest ZOO in Slovakia. Lot of possibilities for leisure are provided by many cultural and historical objects (Redoubt, Town Hall, Parish-Pump House, Gallery of Spiš Artist, The Spiš Museum, The Slovak Technical Museum, The Spiš Theatre) and the sport and relax facilities (swimming pool and indoor swimming pool, indoor tennis hall, artifi cial ice-ring, nine-pins hall, mini-golf, rope park, wellness centres, airport where the parachutist can jump down and have a lookout fl ight). During the whole year the town organizes many cultural and social events. Spišská Nová Ves is attractive for tourists also thanks to immediate vicinity of charming nature of the National Park Slovenský raj (Slovak Paradise) and UNESCO monuments. You can have a advantageous family, romantic or adrenaline stay in the town.