Információ a nyelv nem áll rendelkezésre.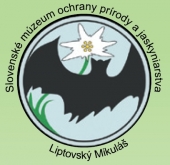 Slovak Museum of Nature Protection and Speleology
It was founded in 1930 as the Slovak Karst Museum. It is the only specialized museum of its kind in Slovakia. After a total renovation of the building and reinstalling the exposure, the permanent exhibition Karst and Caves of Slovakia presents speleology, the cave decoration, the surface and underground karst, hydrology, and bio-speleology and speleo-archaeology. The permanentexhibition Protected Nature of Slovakia presents protected habitats, protected species, protected areas including NATURA 2000 sites, rocks, minerals, mineral deposits, palaeontology and history of nature protection within the Slovakian territory. The examples of leisure and economic activities of humans with their risks to the environment but also the possibilities of their solutions create a part of the permanent exhibition. The Museum includes also a special Museum library and a specialized archive. From the Museum lookout there is a beautiful view at the city and panorama of the Western Tatras Mts., the Low Tatras Mts., the Great Fatra Mts. and Chočské Hills.